Healthy Microbiome is Essential to Optimize Health
TNO develops better research tools that enable the development of Microbiome-Directed Health Products.
Application areas are,

Microbiome
Determine microbiota composition in human subjects, and allow for accurate measurement and monitoring of microbiomes in various stages of scientific research to accelerate advancement and discovery. TNO has a wide range of available tools to increase understanding of the impact and interaction of the microbiome on human health. This is key to determining how various diseases change the body, and how various drugs can impact that change.

Animation of targeted identification of compounds to restore a balanced microbiome.
Each i-screen can simultaneously be exposed to a variety of different conditions, thereby allowing multiple compounds or concentrations to be tested at once. In all cases, potential metabolites can be identified in the earliest stages of development, with human accuracy, without the need for regulatory processing. TNO can also put its microbiome expertise to work to conduct extensive toxicology testing and analysis. Using a variety of techniques and platforms, e.g.Ex vivo InTESTine model we can help investigate the interplay between microbiota and host, and the extent to which certain microbiota have a toxic effect on the human body.
I-Screen; Technology and Application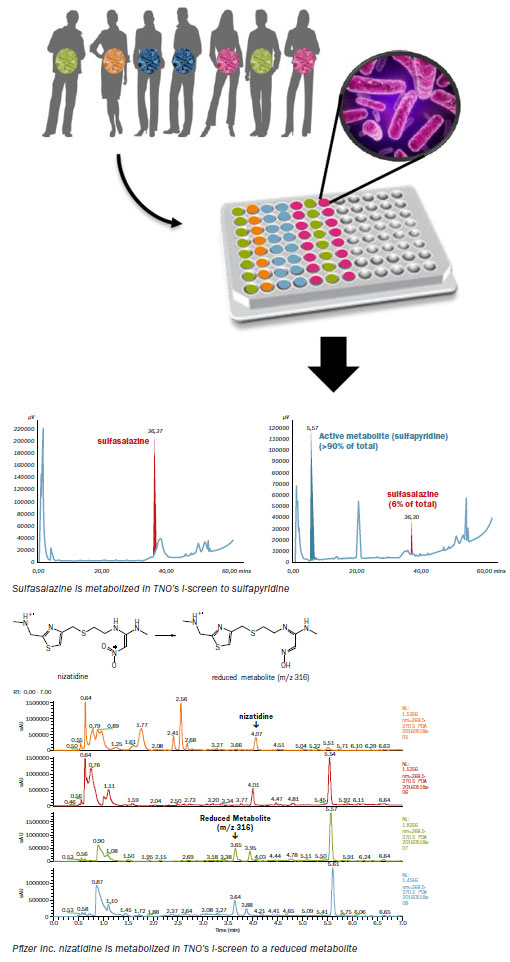 Human gut microbiota are cultured anaerobically in a multi-well system to mimic the human intestinal in vivo metabolism. This allows for determining the potential of intestinal microbiota to metabolize drug candidates. The starting population of microbiota in the I-screen can be a standardized ex-vivo intestinal microbiota pool collected from either healthy volunteers, or for example obese, or lean adults or even children. This would confer the inherent differences found in each individual's specific gut microflora. I-screen enables rapid identification of drugs that are susceptible to metabolism by intestinal microbiota. Additionally, it can be used to identify unknown metabolites transformed by intestinal microbiota. Normally, human metabolite profiling and identification data are generated during Phase II and/ or III of clinical trials. Human metabolites can thus be identified in preclinical stages, thereby de-risking and accelerating the drug development process. Each I-screen can be simultaneously exposed to a large number of different conditions, allowing for cost effective screening of interesting candidate drugs.

Example 1: Intestinal microbiota driven metabolism of Sulfasalazine
TNO has successfully applied the I-screen to demonstrate that Sulfasalazine in the I-screen system is metabolized as has been shown in vivo. Sulfasalazine is designed specifically to be metabolized by human intestinal microbiota to the 5-aminosalicylic acid that has therapeutic effect. However, clinical studies demonstrated that sulfasalazine is mainly metabolized to Sulfapyridine by the intestinal bacteria, which give rise to side-effects. In this example, microbiota from healthy adults were exposed to 100 μM sulfasalazine. Samples were taken after 0 and 24 hrs. and were analyzed by HPLC.

Example 2: Intestinal microbiota driven metabolism of Nizatidine, in collaboration with Pfizer Inc.
In a second example, TNO has successfully applied the i-screen in the investigation of Nizatidine, a pharmaceutical compound that is known to be metabolized by human intestinal microbiota. After the incubation period, the analysis of the samples was performed by Pfizer Inc. using high resolution mass spectrometry. The microbiota from healthy adults were exposed to 50 μM nizatidine and samples taken after 0, 6, 24 and 48 hrs, clearly demonstrated the metabolic capacity of gut microbiota.

Technolgies for Analysis
● Microbiome composition
  > 16S or metagenome
  > ITS Fungal composition
  > Anti-biotic resistance
  > Viability
● Microbiome Function
  > Transcriptome
  > Metabolome
    > SCFA analysis
    > Microbiome metabolites
    > Drug metabolites
  > Microscopy (fluorescence)
● Physiology of Host
  > Blood biomarkers
  > Metabolites
  > Host-microbiome
  > Interactions

I-screen Webinar information
On Tuesday, November 9, 2021 TNO webinar In vitro microbiome and ex vivo intestinal models entitled "WHAT'S NEW IN IN VITRO MICROBIOME AND EX VIVO INTESTINAL MODELS FOR GUT HEALTH" took place.
Program: You can watch this webinar on demand via this link: